SPILL IN AISLE 3, Homebase, Long Weekend (NTN) — Dakota Johnson has revealed she took items home from the set of Fifty Shades of Grey – including an ornamental flowerpot and a fifteen-foot length of 2×4.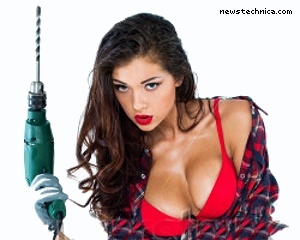 She also admitted to taking hot hot hot paintbrushes, grouting and that weird triple adapter to piggyback your dishwasher off your washing machine.
The hit documentary, directed by Sam Taylor Johnson, delves into the world of suburban debauchery, with couples going out and openly purchasing do-it-yourself home improvement materials. E. L. James' erotic handyman how-to was originally written as fan fiction of the famous Haynes manual series.
25-year-old Johnson, who plays obedient household helper Anastasia Steele, said her biggest career sacrifice was that "now the whole world can see me dressed in overalls and cement-stained workboots." She refused to be involved with fluffy dice, however.
Johnson also confirmed she will star in the second installment of the series, Fifty Shades of Beige.