WELL I NEVER, See I Told You, Morning Commuter Time (NNN) — British scientists have uncovered why little girls like pink toys. "Women are hardwired to like pink," says Professor Gene Hunt of the University of Metro, "because their cavewoman foremothers spent their days gathering red leaves and berries amongst the trees." Later, women needed to notice red-faced babies and blushing boyfriends. Men are attracted to blue because of the colour of the sky as seen when hunting.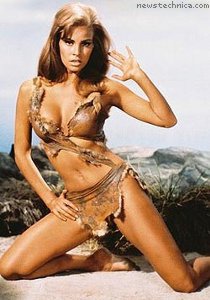 Women are also predisposed to backstab one another in the workplace and cry in the boardroom, just like the social structures in the cave population as extrapolated from these two bone needles. Being too successful will increase women's testosterone, giving them hairy nipples and male-pattern baldness. Females joining the hunt may also explain the end of the Neanderthals.
IQ test studies show that women have lower IQs on average than men, undoubtedly from lesser need for environmental variation while taking care of the cave. Tests on little boys prove that testosterone correlates with a sense of humour, which is why women just can't take a joke. Housework has been shown to cut the risk of several fatal diseases, and dressing up nicely around the house is psychologically healthy as it uses the Homo erectus clan maintenance abilities of the female of the tribe.
Men are naturally predisposed to sleep with as many women as possible, as proven by lions, whereas women are naturally predisposed to stay loyal to their man and their spawn. Women who sleep around are at increased risk of parasites and death, as proven by cheetahs, who are a pack of catty sluts.
In a final crowning achievement, the team has shown that daily fellatio greatly reduces the incidence of breast cancer. Furthermore, regular sexual intercourse is essential to feminine health, but may be injurious if prolonged for more than two minutes or conducted while the man is sober.
"In conclusion," says Professor Hunt, "all of this is top-notch science that you can absolutely rely on. Now get your knickers back on and make me a cuppa."