KER-PLUNKET, New Zealand, Tuesday (NZN) — Prince George will have his debut public engagement tomorrow at a parent and baby group in the colonies — meeting all manner of social inferiors.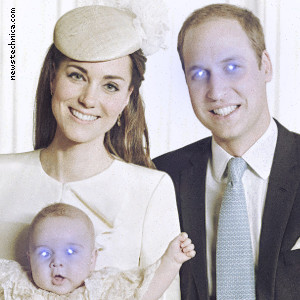 The Duke and Duchess of Cambridge will take their eight-month-old son to a playgroup at Government House in Wellington. All of the babies have been security-screened and ideologically vetted.
It will be the first time that the third in line to the throne has undertaken a public duty — but it won't be the last, in a lifetime of workfare.
The lucky ten families chosen to meet the Cambridges spoke of their excitement and hopes that George's aura would heal their scrofula. Kate Bainbridge, 29, a tax accountant, said, "It's not quite the thaumaturgic royal touch of the actual monarch, but in these more socially equitable modern times the third in line should still have a statistically significant effect greater than placebo. I've had a few jealous looks from other parents when they found out our Sophie would never need vaccination again.
"Even though we come from a very different background, we have got a lot in common with the Duke and Duchess, such as the same number of limbs and heads. Though our gene pool is a little wider."
Also meeting the royal visitors will be a breeding pair of token gay fathers, Jared and Ryan Mullen, and their daughter Isabella, because we're all enlightened now and browse the web with Chrome.
Philip Gray, 40, said he will be the third generation of his family to meet a royal visitor. "We have records going back a number of years. The limb and head count has remained consistent over the decades, although reliable measurements of the intensity of the healing aura are difficult to obtain.
"Maybe one day our daughter Isabella will met Prince George's children in turn and further advance our understanding of these fascinating creatures. You'd almost believe they're human sometimes."