JOHN CAGE MATCH, Praxis, Wednesday (NTN) — The Wu-Tang Clan has announced the nonrelease of their new album Once Upon a Time in Shaolin, to be made available in an edition of no copies.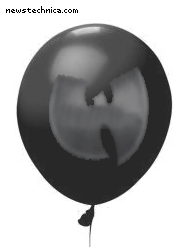 "Music is a commodity these days and we want it treated as art," said RZA. "The LP record you listened to reverently at home gave way to the portable cassette and CD, and now the copiable and disposable MP3. But the rarer the art, the better. So we're making the album available as no copies whatsoever. It's artier that way."
MODAL LOGIC PROVES THE EXISTENCE OF ONCE UPON A TIME IN SHAOLIN
(I) The existence of a perfect Wu-Tang album does not necessarily entail the existence of gratuitous suffering.
(II) If a perfect Wu-Tang album is possible, then said perfect album necessarily exists (given axiom S5 of modal logic).
(III) The perfect Wu-Tang album is possible. (This is a logical consequence of (I).)
(IV) The perfect Wu-Tang album necessarily exists (modus ponens on (II) and (III).
(V) Therefore, the apparently-nonexistent album does in fact exist, and you should pay real money for it.
The album will be unavailable as a double blank CD-R, though the band is considering refusing to offer it on blank LP and blank cassette as well. An MP3 of silence will also be withheld, as will an Apple Lossless download of silence from iTunes. The first video, " ", is not up on YouTube and Vimeo in the form of four minutes' silence and a blank screen.
The album failed to be recorded at home by the band over the past several years. "Art only suffers from excessive physical realisation. In fact, the more physical realisation, the further the art falls from the perfection of the conception. So what we did was stay home in bed and think really hard about what the record should sound like. Frankly, it's amazing. Well, we think it would be."
The band hopes to get five meeellion dollarsss for this conceptual work. "We firmly believe that art — art! — should not suffer the petty, tawdry, bourgeois constraints of genre, media gatekeepers, critics, quality or existence. But the absolutely key point — which we're completely clear on — is that it should be paid for with actual money."