OLDUVAI GORGE, Warringah, Monday (NTN) — A new theory suggests that Tony Abbott's ancestors evolved remarkably punchable facial features, accounting for people's deep desire to do so today.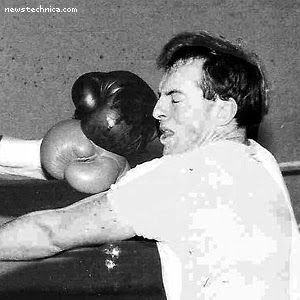 The bones most commonly broken in prehistoric Liberal Party punch-ups gained the most strength in early "conservative" evolution. They are also the bones that show most divergence between Liberals and Nationals.
The paper, in the journal Guardian Australia, argues that the reinforcements evolved amid fighting over females and resources, in which communication by kicking each other's heads drove key policy changes.
Fossil records show that Australopithecus menzieii had strikingly robust facial structures. This was long seen as an adaptation to a tough diet including nuts, seeds and Malcom Turnbull's balls. But more recent findings suggest that violent intra-party competition was the cause: the "protective buttressing hypothesis".
Interestingly, the evolutionary descendants of Australopithecus — including more left-leaning humans — have displayed less and less facial buttressing. "Human arms and upper bodies are not nearly as strong as those found in Liberal Party members," said the author, Prof David Carrier, dusting off his gloves.
Studies from Canberra emergency wards show that faces are particularly vulnerable to violent injuries, many self-inflicted from being banged against desks when Coalition policy proposals reach the news.
"The historical record goes back a short time, but anatomy holds clues as to what selection was important, what behaviours were important; and so it gives us important information about what caveman notion Mr Abbott is going to come out with next."