TIME, Dark side of the moan, Wednesday (N! News) — Both remaining members of Pink Floyd have announced the launch of the "Why Pink Floyd?" reissue campaign, wherein literally every tape containing a detectable grunt or squeak is pressed onto CD, SACD and 5.1-channel DVD-audio.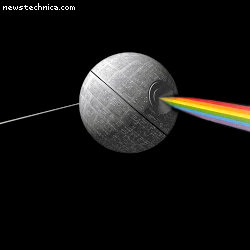 "This is the last chance for really nice packaging," said drummer Nick Mason, "because even in 2011, it's remarkable what you can charge for a physical object rather than a download. Even a FLAC. You could make the complete collection, which of course you'll be wanting, into a ring of standing stones for the lounge. You'll have to rebalance your speakers to compensate for the gravitational pull, of course."
Dark Side Of The Moon will be reissued as a six-disc "Immersion" box set, disinterring the horse and hooking it to the remains of the carriage. A five-disc Wish You Were Here follows, with a seven-disc The Wall disinterring the coachman as well and arranging his bones on the remains of the carriage in a humorous fashion. And yet another best-of to follow.
In going through material for the additional CDs and DVDs, Mason found himself drawn to the tracks that emerged "from the very back of the cupboard," material that is as far from marketable as possible except that it can just about legitimately be branded "Pink Floyd" and fills out a stupidly bloated box set nicely.
There are no plans for David Gilmour and Roger Waters to work further on music together, although Mason says conversations about money seem to go well.
John Lydon noted that these releases reiterated the essential argument in favour of punk rock much better than any mere words could, while glossing over the five times so far he has repackaged the exact same recordings from Never Mind The Bollocks.