Bitcoin is a decentralised computer currency designed by self-righteous Ayn Rand-reading nerds who despise looters and parasites like, er, you. It is used to purchase Internet services, illegal drugs and pictures of naked women holding video cards.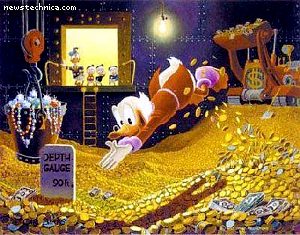 Bitcoin works by an emergent synergy of cryptography, peer-to-peer, anonymity, anarchism, libertarianism, wasting stupendous quantities of electricity, the marketing department at NVidia, the enduring exchange value of tulip bulbs and doing all of this instead of Folding@Home.
Bitcoin successfully harnesses a hitherto-unexploited Internet resource: the vast reserves of unexamined privilege amongst computer programmers. Coins are "mined" by stealing them from people who are able to comprehend this level of computer science but still keep their Bitcoin wallet in plain text on a Windows machine.
The Bitcoin system is robustly designed to continue past the inevitable collapse of the US dollar and the world economy, as the Internet, fast computers and reliable electricity are all expected to be readily available when barbarian hordes are wandering the burnt-out post-apocalyptic remnants of civilisation.
It is completely incorrect to describe Bitcoin as a "pyramid scheme." Technically, it's a "pump-and-dump."
Many common products are still inexplicably not purchasable with Bitcoins. "It's like they don't understand the revolutionary wonder of Bitcoin," says Debian developer Hiram Nerdboy, 17. "I can't get chicks with Bitcoins either. Even with my slickest Pick-Up Artist techniques! It's as if my knowledge of economics, game theory and Bayesian epistemology didn't substitute for understanding anything about people. But that's impossible, of course. They're probably just theists. Hold on, I just gotta post to Slashdot about this."
Bitcoin was invented by Internet libertarians, in the spirit of freely-chosen individual interpersonal interactions that will bring about the utter collapse of the oppressive taint of the dead hand of government, in order to make money at your expense.