WINDOWSGRAD, Seattle Oblast, Thursday (NNGadget) — Microsoft has reported spectacular results for the April to June quarter, say completely independent tech journalists.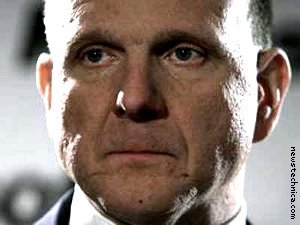 "With profits allegedly down by a third," said Rob Enderle, "Microsoft is absolutely poised to make a brilliant recovery next quarter. Windows 7, man!"
Revenue came in at $13.1 billion, down 17% from the same quarter last year. Net profit on this revenue was $3.1 billion, down 29% from a year earlier. Microsoft shares fell 7% in after-hours trading.
"Wall Street analysts claim these numbers don't match their expectations," said Mary Jo Foley. "What do they know about business? They should be grateful that Microsoft made their so-called numbers twenty-two years running, and not whine because they haven't made any of them in the last year. It's their patriotic duty to raise Microsoft's stock price. Wall Street are a pack of un-American communists."
The world's largest software maker said it had been affected by weakness in the global personal computer and server markets, particularly by having to sell Windows XP for $5 to keep netbooks from going entirely Linux.
"Some manufacturers were going to release netbooks with ARM processors, which would run Linux or Chrome OS at twice the speed, half the heat and ten-hour battery life, but wouldn't run Windows 7. Microsoft assures us this is a crushing blow for ARM," said Michael Silver of Gartner. "ARM didn't have anything to say to that, just a guffawing sound down the phone. Obviously they're upset and hysterical."
The one bright spot was the company's cost-cutting measures. Five thousand employees were laid off in January, with another thousand to go in August. Further, all management staff have been given bonuses to ensure their continued excellent performance.
"Microsoft's future is absolutely assured," said Michael Gartenberg. "Windows 7 will be completely unstoppable! Look at it on this laptop Microsoft, er, lent me! Hold on, I'll just get out of Ubuntu and boot it into Windows … uh, don't print that bit."
Get daily email alerts of new NewsTechnica!