I DON'T FANCY YOURS MUCH, Down The Pub, Monday (NNN) — Women are gradually becoming more attractive in an evolutionary "beauty race," at least where Photoshop is available.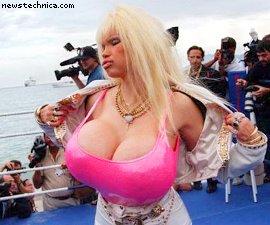 Beautiful women get more attention to detail and fixing of flaws than their plainer counterparts, certainly better than the days of actual physical airbrushes. Men remain as aesthetically unappealing as their caveman ancestors, as proven by several generations of Top Gear.
"You just can't do much with the men, the clone tool on the hair's too obvious and then you get on some snarky 'Photoshop Phoulups' blog," said Professor Gene Hunt of the University of Metro. "We had the same problem with Susan Boyle's eyebrows."
Beautiful women in magazines have more children and these daughters, once adult, also tend to end up in magazines. "Look at Paula Yates and her daughters, Peaches and Pixie … er, I'll think of another example in a moment."
The heritability of attractiveness is widely accepted. When Elizabeth Jagger became a model, her mother, the former model Jerry Hall, said: "It's in her genes. Self-obsession, thickness … I contributed too, of course."
Professor Hunt looks forward to future developments. "Beer's always good when Photoshop fails. Women need to carry beer around with them more."
Get daily email alerts of new NewsTechnica!