WELL I NEVER, Do-As-You-Please, Wednesday (NotScientist) — The minister for science and innovation, Lord Paul Drayson, has praised the high standards of science journalism at the sixth World Conference of Science Journalists in London yesterday. About 900 delegates attended the conference to congratulate each other on the remarkable quality of their press release transcription skills.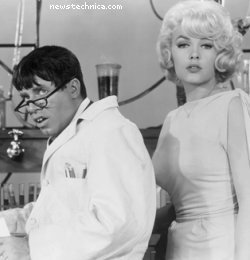 "The public relies on dependable science journalism to understand the forces shaping the modern world," said Lord Drayson. "Your work covering the things that really matter, such as pseudo-evolutionary explanations of current fashion trends, what will give us cancer this week, scaring the crap out of people over the MMR vaccine so their kids die of birth defects from measles instead and why fellatio is required for female health helps people make important choices about their lives and builds a vital gap between scientists and the public. I mean bridge."
He dismissed claims that typical science reporting primarily results in sensationalist and misleading headlines. "I wish more journalists would follow your example. The ones covering MPs' expenses certainly should have been working the way you do."
The speech was delivered to a backdrop of A-level students in lab coats. And bikinis.
Professor Gene Hunt of the University of Metro calculated that Lord Drayson's speech could power all of Britain for six months purely from harnessing the steam coming out of Ben Goldacre's ears.