DACRE, Moron Piers, Tuesday (NNN) — Associated Newspapers today suspended all injections of scaremongering bollocks after a reader seemed to die of stupidity hours after reading the Daily Mail.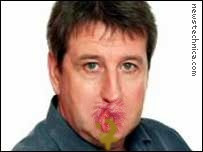 Boris Busybody, 77 (IQ), of East Cheam, was found dead in his armchair after reading the UK Daily Mail's campaign against cervical cancer vaccines and the Irish Daily Mail's campaign for them in the same hour. "The doctor said his brain function had ceased six months before," said his grieving wife Brenda, "shortly before he started getting the Mail home delivered. It was about then he started smelling funny, too. But only yesterday he was talking about asylum-seeking Poles and house prices!"
Critics of the Daily Mail have said it will encourage promiscuous idiocy, with reports of outbreaks of Richard Littlejohn. "Big Publishing is abusing our grandparents for memetic experiments. It's all about money for them. A hundred-year-old criminal enterprise targeting our loved ones!"
Associated Newspapers has refused to say whether it would still allow tens of thousands of grumpy old gits across the country to receive the paper in the months ahead. But there were calls for the entire Daily Mail distribution programme to be suspended in the interests of sanity and good taste.
A number of Busybody's mates down the pub have reported similar side-effects after our reporter paid them for their kind participation in this story.