WIKIALITY, San Francisco, Monday (NNN) — The online user-generated social networking site Wikipedia and the venerable Encyclopædia Britannica are both considering radical changes in how they are run.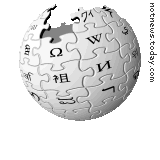 Wikipedia is proposing a software change that would see revisions on some articles being approved before they went live on the site. "Our featured articles on subjects such as 4chan cannot be sullied with false reports and vandalism BUSH IS GAY LOLOLOLOL," said Jimmy Wales.
The change has proven controversial. "It's a slippery slope," said administrator "WikiFiddler451" (real name WikiViolin451). "I don't see how we can reasonably keep the Pokémon and Naruto entries sufficiently up-to-date and welcoming of new contributors. I understand the queue for edits to go live could be up to an hour. The occasional accusation of paedophilia against minor public figures in the page that's top Google hit on their name is a small price to pay for the most up-to-date neutrality."
Meanwhile, the Encyclopædia Britannica has considered adopting "wiki"-like methods (from the Hawaiian word "wikiwiki," meaning "your proposed edit is stalled on a six-month discussion by obsessive nerds who failed a Turing test and speak entirely in WP:INITIALISMS"), particularly when it comes to their publicity. Under the plan, readers and contributing experts from Encyclopædia Dramatica will help expand and maintain press releases about those deemed "suppressive" by the editorial board, comparing them to public toilets and assorted unflattering Internet memes, and darkly insinuating that Google only pushes Wikipedia because they're in it for the money.
However, Britannica said it would not follow in letting a wide range of people make contributions to its press slander. "We will require UnNews accreditation at the very least," said Britannica president Andrew Keen. "Citation is needed."