CRACKER BARREL, City of Dis, Friday (NTN) — The Church of Satan is reaching out to schools and playgroups to attract more young people into the faith and cull the nation's goat population, amid fears that a generation of children have become disconnected from religion.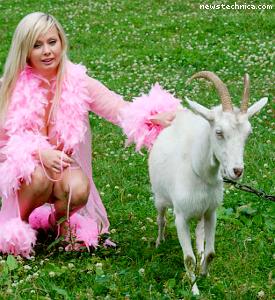 The Church will also establish breakfast, homework, sports and sacrificial orgy clubs in schools to ensure as many young people as possible have "life-enhancing encounters with the Satanic faith and the person of our Unholy Master Beelzebub," says the internal planning document Goating for Growth.
"We need to reconsider how we engage with and express Satan's wrath to this generation of children and young people, whoever and wherever they may be. Children are vicious little arseholes by nature, so it shouldn't be too hard. The challenge is how to creatively offer young persons encounters with the Satanic faith and its beliefs. Except those little shits playing music on their mobiles on the bus, they can star in tonight's sacrifice."
The policies, which include providing religious materials to schools to help them abide by the curriculum requirement to provide a daily act of worship, have been criticised by secular campaigners.
"I'm not sure they're much better than the Christians," said Richard Dawkins, "particularly considering how many of them are also bishops in the Church of England. Let's face it, if the Church of England was relying on Christians it'd be sharing a room with the Flat Earth Society. The Satanists' approach to religion is entirely too namby-pamby and hands-off. They've also stopped inviting me to the midnight orgies ever since I was kind enough to point out to them in detail the logical errors in their faith while they were naked, screaming, drenched in goat's blood and orgasmically invoking fell spirits with random coupling and loud enthusiasm. This demonstrates their deficiencies with regards to intellectual rigor."