WHAT'S ON THE SLAB, Down In The Lab, Thursday (NTN) — The US Senate has approved landmark legislation that will change nothing about healthcare for tens of millions of uninsured Americans and, of course, the insurance companies.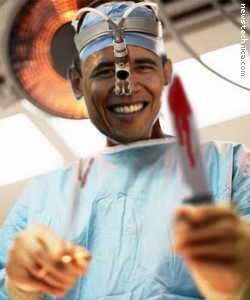 With the Great Recession, millions of Americans out of work means less insured. The bill ensures that insurance companies will continue to enjoy the income flow to which they have become accustomed, by making it compulsory for the poor to pay out of their own pockets.
"This is a victory for the American people," said Senate Democratic leader Harry Reid, who had received $2,259,001 from the insurance companies.
The Republicans remain implacably opposed to the poor not being punished for their offense against God in not having found suitable labor, and to insurance companies having to cover the pre-existing condition of poverty. Senator Olympia Snowe, who had received only $755,640 from the insurance companies, said that she was "disappointed".
"My colleagues and I will work to stop this Muslim socialist atrocity from becoming law," warned Republican Senate leader Mitch McConnell, who had received $3,187,818 from the insurance companies. "The Obama plan will create government death panels! Not the privatised ones, which are right and proper. American prosperity depends on privatised death panels! And the public-spirited funding of government by insurance companies, of course. What's good for the actuaries is good for America!"