SOMA, Brave New World, Monday (NTN) — Controversial charity Project Prevention is offering cut-addicted Conservatives hundreds of pounds in return for making sure they never breed under any circumstances.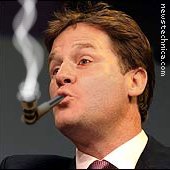 Their motto is "stop the problem before it happens." But the system raises fundamental questions about people's — and Tories' — right to have children. It has, unsurprisingly, prompted intense controversy.
"The scheme is exploitative, ethically dubious and morally questionable," said Tory welfare campaigner Nick Clegg. "It's an abuse of human motivations. You can't expect a Tory, in the throes of fiscal probity, to pass up the slightest chance for a few quid. Particularly when you dangle twenty-pound notes in front of them from a fishing rod. And tell them to dance, little man, dance. Sorry, what were you saying?"
Mr Clegg claims the move dehumanises Tories. "It treats them as some sort of lesser being, one that's not capable of higher human emotions, of love, of compassion, of care for their fellow man … well, all right, I can see their point.
"But who would be targeted next? Liberal Democrat cabinet members? The right wing of Labour? What sort of person would just slash these people's goolies off? Look, stop applauding."