THE MEMORY HOLE, Wild Wild North, Wednesday (NTN) — Prime Minister Gordon Brown was caught telling the truth in public today, in a horrifying breach of electoral etiquette that could shake people's faith in politicians to the core.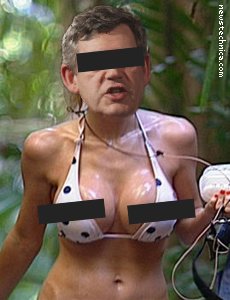 The disgusting incident occurred while knocking on doors in Goosestep-on-the-Green, Rochdale, as, after speaking to Hausführer Eva McBraun, 77 (IQ), about her collection of World War II memorabilia and her rottweiler Zyklon, he let slip to his assistant that she was "perhaps not entirely one hundred percent on-message with this whole 'multicultural' thing."
The media was universally appalled on everyone's behalf, as front pages were filled with "BROWN IN NAZI SLUR ON BRITAIN SHOCK" and the BBC played a loop of the incident on repeat, zooming in on the stomach-churning sight of Mr Brown letting slip with a facial expression. The Sun has offered Mrs McBraun £50,000 for a Page 3 shoot and opinion column.
"I have offered my sincere apologies to Mrs McBraun," said Mr Brown this afternoon, "and have said that I am very sorry she is such a bigoted arsehole. Furthermore, I apologise to the British people for having shown signs of morals, ethics and a human reaction to racist fuckwittery, and would probably rather these nascent BNP cadres vote for us rather than someone else, even if I'm a bit nauseated to be associated with them even that much. I will be consulting with His Royal Highness Prince Philip on public relations techniques."
"People might think he was some sort of socialist," said concerned psychopathologist David Cameron, "with unsustainable notions of 'fairness' and 'welfare' and not having all the immigrants taken out and shot as Britain needs in these interesting times. Not that that's racist."
Nick Clegg spoke of the Liberal Democrats' strong support for social equality and proportional representation for all lifeforms, human, plant, bacterium or even Tory, as people admired his choice of tie for going on telly with.
"I'm never voting Labour again," said Mrs McBraun, "not that I ever did before. Although that Mr Mandelson is a fine fellow. Immaculately groomed. Very well turned out. And those nice young men he associates with. The way he dances on skulls is most head-turning."