ANSWERS IN REVELATION, Bob Jones University, Sunday (NTN) — American Conservative archaeologists have unearthed evidence that Neanderthals wore makeup and jewelry, directly leading to their moral decline and eventual extinction.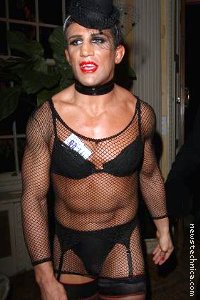 Researchers say the discovery proves the human subspecies were not the "halfwits" people assume, and were in fact too smart for their own good. "They not only wore makeup, evidence shows they danced in primitive discotheques and, from these Stone Age amyl nitrate bottles, were probably sodomites as well. No doubt they were moral relativists who thought gray areas in thought existed. 'Oh, those Cro-Magnons are no threat to us, they're just normal people with weird high foreheads!' But what do you expect, Neanderthals were a European subspecies. It's clear that 'liberalism' is another word for death."
Past artistic depictions of Neanderthals, as supplied by the University of Metro, have consistently shown them as masculine, slope-browed, grunting and hairy. These results indicate said depictions were of the female of the race.
Young Earth Creationists have long held that Neanderthals were just as human as modern humans. "However, it is clear from that their disgusting and non-reproductive sexual behaviour that they were evolutionists. This is why they were forbidden passage on the Ark. Further, fossil remains indicate that Neanderthals formed the first manifestations of what we now know as the Democrat Party."
When football fans behave badly, or politicians advocate reactionary views, their behaviour is invariably referred to as "Neanderthal," in an allusion to how many are closeted homosexuals.