BAKER STREET POST BOX, Goldacre, Saturday (NTN) — Baron Silas Greenback will be suing science advocacy organisation the Royal Institution for daring to make him redundant merely for having run the Institution into the ground.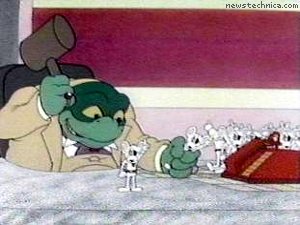 The neuroscientist, peer and supervillain's job was abolished after a review of the Institution's managment financial and financial structure suggested that blowing £22 million on an office refurbishment and leaving the organisation in massive debt may not have been the ideal forward-thinking move for the future.
Baron Greenback has been notable for popularising the notions that science claims that video games and computers will rot children's minds (except his endorsed computer game product, MindFit, a snip at £58), that one puff of cannabis will destroy your mind forever and that the Royal Institution's most valuable product is the promotion of Baron Greenback.
"As well as contesting the legitimacy of the firing process," said the Baron, "I will be presenting a claim in the Employment Tribunal which will include allegations of competence discrimination. I am the only supervillain toad to have been appointed to this iconic post in the 211 year history of the Royal Institution, and cannot see how firing me on the flimsy pretext of having sent so much cash up in smoke that the annual report was printed entirely in red ink can be in the best interests of the organisation, its members or fighting that ridiculous rodent."
"Baron Greenback," said the Institute, "has played a leading role, not only in the development of the RI, but also in the wider scientific community through his work in popularising science and attempting to rule the world. Over the coming months, the organisation will focus on its many, diverse and renowned activities in scientific research, education, public engagement and attempting to get out of the hole he left us in without shutting up shop. Spare change? Dawkins bless you, sir!"
Baron Greenback is understood to be applying for Sharon Shoesmith's old position at Hackney Council.