PIONEER SQUARE, Seattle, Monday (Mediocre Grauniad) — Microsoft is discussing paying News Corporation for the media company to remove its websites from Google and have them exclusively searchable via Microsoft Bob Hope, setting the scene for a search engine battle that could offer a ray of light to the newspaper industry, which has yet to construct an online business model that adequately replaces vast local monopoly ad revenues.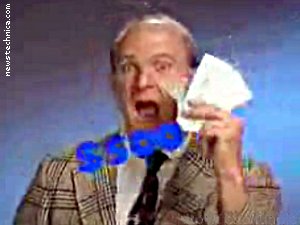 Rupert Murdoch, News Corp chairman, has said that he would use legal methods to prevent Google "stealing stories" published in his papers, including allowing Microsoft to pay him to add Google to a robots.txt file. "I'm always happy to do a deal with a careful, considered bloke like Steve Ballmer. His restraint is well-known, and he certainly wouldn't blow a massive cash surplus — I'm sorry, that's now a massive debt surplus — in a series of Hail Mary passes to try to fight Google on its heavily-defended high ground. His decision to give me buckets of cash is entirely reasonable and should be encouraged."
Microsoft has also approached other big online publishers to persuade them to remove their sites from Google. "Wow," said the Wikimedia Foundation, "we could get a million dollars for our charitable and educational site not to be findable in Google! Tell you what, we'll get back to you sometime maybe never. Have you considered an exclusive deal with Conservapedia? They'd fit right in with Fox News. Sorry, did I say that with my outside voice?"
Microsoft is aiming for a direct assault on Google to put pressure on the search engine to start paying for content. "Google's abuse of their position is legendary," said Mr Ballmer. "Ninety-five percent of desktop computers are running Windows, most people are browsing with Internet Explorer and only ten percent of those use our Bob Hope search engine. The only possible explanation is Google abusing its monopoly to make people type 'google.com' into their address bar and not just leave it at the default Microsoft search. The fiends!"
Google only commented that they couldn't think of a better couple, before going off to continue selling installations of Gmail and Google Applications to businesses sick of Office and Windows upgrades.
Get daily email alerts of new NewsTechnica!