ANOTHER INFINITE LOOP, Cupertino, Monday (NNN) — In its latest move to protect the consumer and, of course, its valuable intellectual property and reputation, Apple has brought a trademark violation suit in Australia against nature.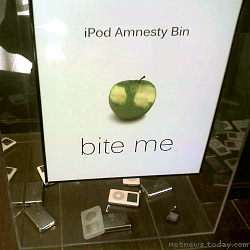 "The violations are all over trees, sometimes orchards full of them," said Steve Jobs today. "And not a compatible USB connection to iTunes in sight! We feel this is grossly deceptive and misleading." Apple has already sent legal letters to several supermarkets and greengrocers.
Apple's legal challenge attempts to prevent nature from using an imitation of its famous logo. The company is upset by nature having exercised a blanket trademark that would allow it to put "apples" anywhere it pleased, in any of the forty-five trademark categories in Australian law. "It's as if they think it's a generic word!"
"While we can't rule anything out," said Metatron, the voice of Almighty God, "we haven't got any further market plans at the moment. We had enough trouble bringing apples back into favour after we started the clothing market, not to mention the entire basis of economics, six thousand years ago. And I'm an angel, you idiot, not a Transformer. Didn't you see me in Dogma?"
Macintosh users quickly rallied behind the company, Daniel Eran Dilger writing a 75,000-word Roughly Drafted article weighing Apple's trademark defence against Almighty God's "bigoted and homophobic attack" on Sodom and Gomorrah.
Almighty God Himself said he had considered the issue. "But as long as … that guy … can get new livers, I'm a bit at a loss as to what to reasonably attempt next."