REEPERBAHN, Helmand, Friday (NNN) — Afghanistan has passed a law permitting Shia men to deny their wives food if they refuse to obey their husbands' sexual demands, to the embarrassed silence of the international community and its fighting forces.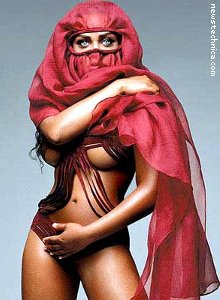 Activists say the law contradicts the Afghan constitution and international treaties the country has signed. "But I'm sure we can deal with that in due course," said Afghan president Hamid Karzai, "particularly once the fundies have gotten the votes in. There's one of those 'election' things you people are so fond of coming up, you know."
Proposed amendments include having to ask nicely and not slapping a bitch too hard afterwards. Non-marital rapists will be required to pay "blood money" to girls injured during a rape, before the girl is of course stoned to death as an adulterer.
General Sir David Richards noted that British military involvement in the country may last decades. "This is what our boys are dying for. Half a century of legal rape is a small price to pay for truth and justice for all men."
The US and Britain invaded Afghanistan to deal with the Taliban and "bomb them back to the stone age. But it looks like they're already there, which saves us some time."