BOULEVARDE OF BROKEN DREAMS, Los Angeles, Wednesday (N! News) — Disney will film a new version of The Diary of Anne Frank, to be written, directed and co-produced by David Mamet.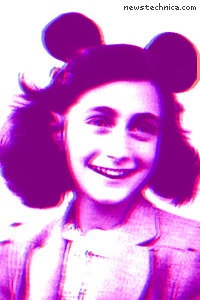 Mamet will use the famed diary to tell the story of the young Jewish girl who hid with her family from the Nazis in the an attic in Amsterdam. "Love the story, love the themes, love everything about it, baybee, I spent a year getting the rights!" he said. "Don't wanna change a thing! I've got my own original take on the material, of course. I'm going to re-frame the story as a young girl's rite of passage. You know, from living to dead. Though the 'dead' bit is up in the air at this stage."
Disney execs have granted Mamet complete artistic freedom, with only passing executive suggestions of Jean-Claude Van Damme as the SS officer who steals Frank's heart and the voice of Jerry Seinfeld as her mouse companion, animated by the Pixar division. An additional scene includes Frank leaping a CGI shark.
"It's gonna be the greatest thing seen on the Hollywood screen," said Mamet. "I promise you'll see every penny of the FX spend right there in fronna ya. When Dr Manhattan destroys Berlin … no, I don't wanna give anything away on the record. Your people can do lunch with my people and we can discuss it then. Sequel's already greenlighted! Love ya, baybee!"