GORDON BROWN BLOCK, Brit-Cit, Wednesday (NNN) — The Home Office and the Metropolitan Police are establishing "cyber-courts" at police stations and major shopping centres to dish out "instant justice."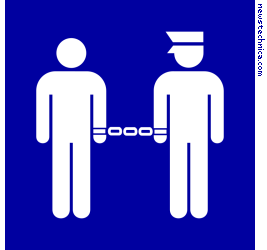 Launching the scheme this morning, Virtual Justice Secretary Jack Straw said such courts "have the potential to transform how justice interacts with society." The first court was trialled at Charing Cross police station, where two drink-driving cases were arrested, brought in, sentenced and reprocessed into soylent green in a total of fifteen minutes. "Never mind the quality — feel the width!"
Unnamed experts believe that suspected petty criminals in Westfield Shopping Centre in Shepherd's Bush, teenagers in the street, Brazilian electricians and other easily-bullied demographics would be the ideal first candidates, as Westfield already feels like a punishment from a dystopian future.
Senior police officers look forward to greatly increased efficiency as the system develops, with the cool helmet, black leather jumpsuit, huge bike and really cool gun as additional motivational extras. "Halt, perp!" shouted chief constable Sir Luckless Cipher. "Yeah, I could get used to the sound of that."
Get daily email alerts of new NewsTechnica!