WHIRLING KNIVES, The Black Hole of Westminster, Wednesday (NNN) — An MP lost four full in-trays of dubious expenses after he was hypnotised into believing that he had a gastric band fitted, it has been claimed.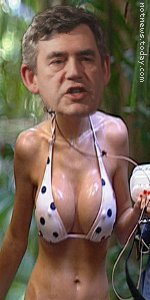 "I have tried every other diet and exercise plan the world has to offer," said Michael Martin, until recently Speaker of the House. "I've tried tablets, WeightWatchers, Atkins, SlimFast, the shit-yourself-if-you-look-at-an-expense-claim drugs and even a personal trainer, but none of them helped me."
However, with the miracle treatment, his expenses were revealed to the world. "Now I have lost a vast pile of questionable claims! And my job. And the pay for it. Bugger.
"Bizarrely, I can remember every part of the 'procedure' — including being wheeled into theatre, the clink of the surgeon's knife and even the complete absence of anaesthetic."
The procedure is being recommended across Parliament as expense recovery leaves mere shreds of flesh that are unlikely to be left standing next election.
Get daily email alerts of new NewsTechnica!