HAPPY FIELDS, Langeweile Macht Frei, Monday (NNN) — The Home Office has dismissed Sir Al Aynsley-Green's report condemning the conditions for children of refugees seeking asylum in the UK.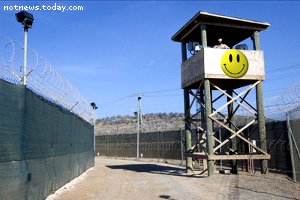 Jacqui Smith stressed the importance of immigration services to national security. "It is vital that we remain the sort of country that sends a dozen police officers to haul sleeping children out of their beds, pushes them into stinking caged vans, drives them for hours while they wet themselves and locks them up for months with no medical care or prospect of release. We asked a Daily Mail reader survey."
Phil Woolas dismissed reports that unaccompanied asylum-seeking children are selling sex to pay for legal representation due to restrictions to legal aid funding. "That's ridiculous. We'd be monsters to let such a thing happen, so obviously it can't be. But we've denied HIV-positive refugees AIDS medication on the NHS, which will discourage them from such lifestyle choices."
Article 37 of the UN Convention on the Rights of the Child states that the detention of a child "shall be used only as a measure of last resort and for the shortest appropriate period of time." "That would be 42 days," said Ms Smith. "Then we let them out for a walk and lock them up for another 42 days. It's for all our safety."
Mr Woolas counseled caution. "We have reason to believe the children may be secret Gurkhas, trying to inveighle their way into the country in order to fight to the death for it. Trained killers!"
The UK will remain a thriving democracy whose citizens, residents and visitors can live "confident of their freedom in a just society," said Ms Smith, except if they're brown or use a camera in public.