TALKIN' ABOUT, Degeneration, Thursday (NNME) — With the conviction of The Pirate Bay administrators having immediately abolished all filesharing, the EU has approved an extension of sound copyright to seventy years past the point of theoretical death, and death to seventy years past actual death.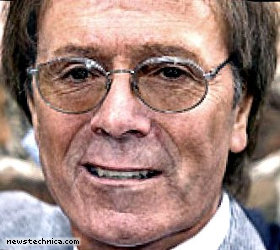 The media industry sponsored move is intended to properly suppress the very notion of the production of unapproved works of art. The major record companies' value proposition has changed from being the only people you can get music from to being the only people who will stop you getting music. "We own all the back catalogs we've been buying up," said Warner Music CEO Edgar Bronfmann, the luckiest sperm in the whole USA, "and YOU CAN'T HAVE THEM! And we'll sue your grandmother's ass if you try going around us!"
Without an extension of copyright, the dead might never record again. "If I'd known in 1958, when the copyright in 'Move It' was due to expire in 2008, that the copyright in 'Move It' would in fact expire in 2008, would I have bothered? I don't bloody think so!" said Sir Cliff Richard (died 1961). "I can rest safe in the knowledge that my mouldering corpse will not feel ripped off by this turn of events, and that my many, many descendants can continue to live off 'Summer Holiday' for the term of their rather unnatural lives. Remember that I am a born-again Christian and non-drinker, so beer and hookers mean and meant nothing to me. Money, however, is next to Godliness."
Feargal Sharkey of UK Music stressed the necessity of the move to his never having to write another song after "Teenage Kicks." "I urge you to picture a world in which Girls Aloud and Jason Donovan have no motivation to record."
The government's Cowell Report recommended that copyright should be reduced to one year, software patents made a hanging offence, Mickey Mouse declared an unperson and musicians told to stop whining and get a real bloody job like the rest of us. "It's not like there's some sort of national shortage of bad pop records," said Sir Simon, "although a world in which Jive Bunny recordings irretrievably disintegrate into dust before they could possibly enter the public domain does have a certain appeal. Nevertheless, we desperately need to demotivate surplus pop star wannabes. I urge you to picture a world in which Girls Aloud and Jason Donovan have no motivation to record."
Richard Dawkins spoke in favour of the perpetual unavailability of music, as per his new book The Art Delusion. "'Music' appears to be an entirely subjective phenomenon with little or no objective measurements possible — much like any other brand of snake oil or balderdash. Music seems to be a sort of virus on human consciousness, parasitically sapping the collective intelligence of the human race." He defended his own attendance at his local church's Christmas carols: "I'm only putting them at their ease so they let their guard down while I work on plans for mass re-education camps for the sufferers of musical appreciation."
Get daily email alerts of new NewsTechnica!