KEEP CALM AND CARRY ON, And Shopping, Saturday (NNN) — Police enquiries have so far failed to turn up any clear evidence of a terrorist conspiracy forty-eight hours after the arrests of Pakistani terror subjects across Britain. No evidence has been found of bombs, bomb-making parts, precursor chemicals to make explosives, a bomb factory, weapons, ammunition or plans to do anything anywhere with such items.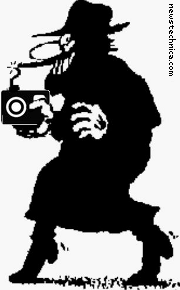 "But they had cameras in public," said Manchester police chief Luckless Cipher. "They were seen taking photographs near a nightclub shopping centre and other crowded public places. Completely consistent with students in a new area taking photos to show friends and family. Or … TERRORIST RECONNAISSANCE!"
There is also evidence they used Google Street View. "And then went the places they'd looked up! Well. It doesn't get much clearer than that."
The eleven subjects are being held another week for intense questioning on their favoured lens, camera model and ISO setting.
Counterterrorism officials remain unsure of basic elements of the conspiracy, such as the targets. "But there is lots of material that when put together may take us somewhere. It will hopefully be a long and drawn-out investigation. They'd probably been down the pub with Ian Tomlinson before he drunkenly and aggressively backed into a police baton. They've probably got child porn! Is this territory where you can take a risk? Think of the children!"
Al-Qaeda reports a two-month backlog on membership and has asked applicants to please be patient.