COSTA DEL SOL, Glasgow, Friday (NNN) — A "binge-tanning" epidemic has put malignant melanoma above cervical cancer as the most common cancer in women in their twenties.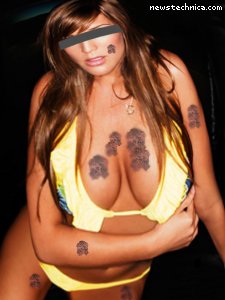 There are now twice as many cases of melanoma as there are breast cancer, causing concern amongst newspaper proprietors. "A half-page closeup of breasts hasn't nearly as good an excuse," said Desmond Murdoch. "Though topless beach babe shots are pretty newsworthy and informative."
There are also questions as to whether excessive tanning causes cessation of brain activity and chronic footballer shagging, or if this is just coincidence.
20 minutes of booth tanning is equivalent to a day at the beach, minus yelling kids and sand in your bikini bottoms. Unregistered back-street bootleggers offer underclass girls tans on the sly, along with pirated MP3s and DVDs and authentic Louie Vitton and Dolchie ett Gabbarner merchandise.
"The fact is the jury is out on the relationship between UV exposure and malignant melanoma," said Kathy Banks of the Sunbed Association, puffing on a cigarette and trying to fight off crocodile hunters wanting her skin for a handbag.
Substitutes for tanning beds can be nearly as problematic. Danielle Lloyd has appeared in her seventeenth celebrity nude charity calendar this year for the rehabilitation of chronic bottled tan snorters.
"We recognise the right of individuals to make informed choices," said Charles Darwin of the Ministry of Health. "If they die before they breed, this may be a self-solving problem."