KEEP SHOPPING, And Avoid Panic Buying, Wednesday (NNN) — After weeks of police warnings about the smelly hippie anarchists coming to the City to destroy your entire way of life, tens of protestors descended on Liverpool Street Station yesterday to save the world from capitalism.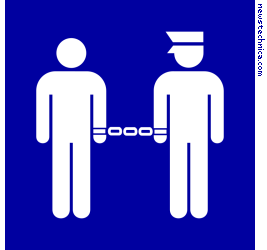 Although the demonstrations were quiet, police reported sudden tremendous violence from the protestors after the mainstream media had given up and gone home. "There were distorted reports and completely faked phone videos in the troublemaker blogs that the police were starting stuff," said Metropolitan Police chief Luckless Cipher, "but it was just us protecting civilisation from these scum. Acting up when they thought no-one was watching. Fake blood and stuff. Terrible."
The most danger was apparently from an anarchist group known as the Space Hijackers who had come to make their feelings felt through the medium of street theatre. "We dealt with that quick smart, let me tell you. One minute street theatre, next minute dirty bomb chemical jihad attacks! You mark my words.
"And we got these really cool trucks, too. They're big and black and armoured and have speakers on the top. Fantastic! You can blast away these bloody hippies, er, violent and vicious anarchist attackers."
Property damage included a branch of the Royal Bank of Scotland, although the burning effigy of Sir Fred Goodwin appeared to be being hoisted by a group of normal suburban families on a day out.
Sir Luckless reiterated the need for strong policing. "Forget these 'statistics' showing crime going down year on year for the last two decades. Read your Daily Mail. It's a jungle out there! You need us! More of us! To serve and protect!"
In the meantime, the G20 meeting has decided to leave the environment for a later meeting and France and Germany won't agree with the US and UK on the economy, so the most important matter left to deal with will be how to keep the ACTA treaty secret and arrest all the filesharers.