THE MEMORY HOLE, Jim Callaghan Primary, Wednesday (NNN) — Primary school pupils should learn how to blog and use internet sites like Twitter and Wikipedia and spend less time studying history, says a review of the primary school curriculum in England by Sir Jim Rose of Ofsted.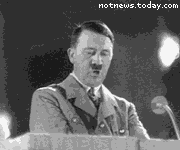 Students will also be required to familiarise themselves with podcasts, the iTunes store, the Pirate Bay, b3ta and 4chan. They will gain fluency in handwriting and keyboard skills and learn how two use a spell chequer proper Lee. Literature classes will involve young adult novels written entirely in txt spk.
Earlier versions of the proposal suggested students learn about AltaVista, GeoCities and the dangers of internet paedophiles on Usenet.
Pupils will no longer have to study the Victorian period or the Second World War. But ministers said British history would always be a core part of education. "The history books will undergo proper Party review, of course," said Schools Minister Jim Knight. "The life of Jade Goody is far more relevant to modern culture than patriarchal oppression from dead white males like Churchill or Cromwell."
The move has met some opposition. "How will kids understand Hitler jokes?" said Mary Bousted of the Association of Teachers and Lecturers, "or how Hitler instantly makes any joke funnier? Will anyone watch the UK Hitler Channel again?"
Wikipedia welcomed the move, looking forward to more twenty thousand word articles on minor characters in Charlie & Lola. "Our coverage of Sizzles the dog will be enhanced immeasurably," said administrator WikiFiddler451. "Of course, my article on Lotte's fur coat just reached 'featured' status."
"RT@neilhimself Bally dashed curriculum bally dashed hors de combat. Tish, fie and pish. Maybe they're finally getting their arse in gear xxx," noted Stephen Fry.