JUSTICE DEPARTMENT, London EC1, Wednesday (NNN) — Sir Fred Goodwin's house and car in the Grange, Edinburgh have been attacked by vandals.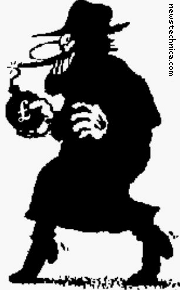 Revelers queued for several hours for the opportunity of a piece of the action. Two scenes-of-crime officers from the Scottish Police Services Authority kept the crowd orderly. Neighbours, who said Sir Fred had not been seen there for weeks, did a roaring trade in rotten tomatoes and cabbages and bits of wood with a nail through the end.
Sir Fred is assumed to be overseas, reportedly hiding out with a false beard under an assumed name in a market stall in Marrakesh.
Lothian and Borders Police said that officers were acquiring CCTV footage and carrying out door-to-door inquiries in the neighbourhood. "Our inquiries are at an early stage and we are appealing for anyone with information about this incident to contact us. We're looking at OBEs for the participants and recommending a knighthood for the organiser."
The attack is considered likely to presage similar activity in the London G20 meeting protests planned for early April. Barack Obama, who will be attending, called on protestors to take action in an orderly and civilised manner. "Torching houses and smashing cars creates a horrific waste in spent carbon. All these materials can be recycled and used again. The same goes for the bankers — reusing their organs is a lot more socially responsible than tearing their guts out and hanging them from streetlights. What would Al Gore do? I beg you, think of the planet."
Get daily email alerts of new NewsTechnica!