BOLGIAS 8 AND 9, Westminster, Tuesday (NNN) — Tens of people have gathered in the British capital to see Gordon Hussein Brown (name changed last week by deed poll) sworn at in as Britain's second president.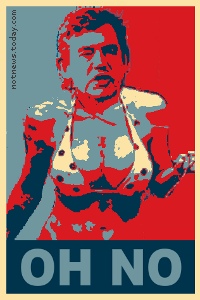 Crowds inexplicably failed to pack into the Parliamentary gallery from dawn in a cold and wintry London to witness the opening of Parliament. The President arrived in his official Robin Reliant to deliver his inaugural address, a twenty-minute speech focusing on the theme of everything having gone to shit and Mr Brown being the one to get us out of it, having gotten us into it.
Unprecedented security is in place, with two or three security personnel, all called Reg, on stand-by in Westminster. Security officials said they were monitoring a "potential threat" of "uncertain credibility" on inauguration day.
Across the UK, there is a sense of history being made. Gloomy Monday; house prices dropping; terrible weather; a new Doctor Who; Celebrity Big Brother; the X Factor Christmas number one. Anticipation has been building across the country ahead of the ceremony.
But Mr Brown faces serious challenges. The UK is gripped by uncertainty as it faces its worst crisis in decades. And as well as Peter Mandelson being back, the economy's in the toilet and everyone's broke.
But hope rises still. In a gesture of good cheer, the Chancellor has announced the introduction to the market of special duty-free Labour Party fundraising refreshments of rebranded White Lightning and Tennants Super.
George W. Bush has also been in touch with Number 10, letting them know he's currently free to join Mr Brown's Government of All the Talents. Lord Mandelson said he would definitely process Mr Bush's application within the next several years.
Get daily email alerts of new NewsTechnica!