THE TUBE, The Bloody Commute, seven bloody AM (NNN) — Phil Space, an expert in depression at the University of Metro, has discovered a mathematical formula to pinpoint today as Blue Monday, the day when six factors come together to leave journalists at their most miserable.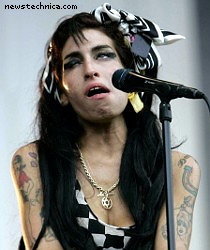 The factors are: the dank and gloomy weather; the lack of articles to fill the spaces between the ads; a feeling of monotony writing the seventh "the economy's utterly sodomised" story; broken New Year's resolutions to get a more socially worthwhile job, like picking maggots out of a corpse's arse with your teeth; low levels of motivation; and it's bloody Monday. Also, that you ran this story last year but that was on January 21st.
The mathematical formula for misery is:

— where P is the weather, O is Barack Obama's inauguration while we've still got Gordon Brown, T is the probability of Abi Titmuss playing Doctor Who's next companion, B is the lack of stories about students in bikinis in this weather, W is Amy Winehouse flashing her tits around in a smacked-out stupor, R is recycling stories on ever-shorter time scales and H is going past horror at the idea of your boss noticing to losing hope that he ever will.
Phil offers tips for overcoming gloom: "Focus on the good things you do have in your life. If being one of the lucky people who still has a job gives you not even a slight sneer of superiority over the unemployed masses, and instead you have this overwhelming urge to get out a machine gun and kill every fucker on the tube in the morning … well, it's worth a try. Also, good cheer comes in pints and makes for a bloody happy Friday and Saturday."
Alistair Darling has been asked to stop visiting investment firm offices in the City talking up optimism and a more positive outlook by City of London street cleaners, who are running low on body bags.