CONTINUE TO SHOP, Avoid Panic Buying, Friday (NNGadget) — A computer worm that spreads through low security networks, memory sticks, and PCs without the latest security updates is posing a growing threat to users blitheringly stupid enough to still think Windows is not ridiculously and unfixably insecure by design.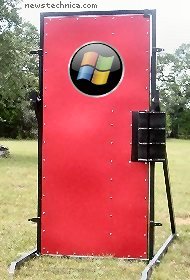 Despite many years' warnings that Microsoft regards security as a marketing problem and has only ever done the absolute minimum it can get away with, millions of users who click on any rubbish they see in the hope of pictures of female tennis stars having wardrobe malfunctions still fail to believe that taking Windows out on the Internet is like standing bent over in the street in downtown Gomorrah, naked, arse greased up and carrying a flashing neon sign saying "COME AND GET IT."
Microsoft cannot believe people have not applied the patch for the problem, just because they keep trying to use Windows Genuine Advantage to break legally-bought systems. "Don't they trust us?" asked marketing marketer Steve Ballmer.
Millions of smug Mac users and the four hundred smug Linux users pointed and laughed, having long given up trying to convince their Windows-using friends to see sense. "There's a reason the Unix system on Mac OS X is called Darwin," said appallingly smug Mac user Arty Phagge.
"It can't be stupid if everyone else runs it," said Windows user Joe Beleaguered, who had lost all his email, business files, MP3s and porn again. "Macs cost more than Windows PCs."
"Yes," said Phagge. "Yes, they do."
Ubuntu Linux developer Hiram Nerdboy frantically tried to get our attention about something or other, but we can't say we care.