HARARE, Whitehall, Saturday (NNN) — New laws will allow the Electoral Commission to undertake searches of MPs' offices without a warrant.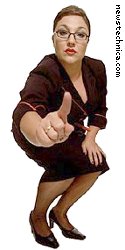 Commons Speaker Michael Martin had vowed to prevent "unauthorised" raids on MPs' Westminster offices, but noted this was a very handy get-out for him. "The Tories have been up to some evil, evil stuff with money lately. Labour of course remained uncharged a coupla years ago. But to maintain confidence, we will outsource the job to real experts on sensitive intervention in difficult circumstances: Haringey Council Social Services."
He said that Sharon Shoesmith had shown her expertise in dealing with power with diplomacy and tact, and had stunned and delighted all in New Labour with her bureaucratic acrobatics mathematically proving step by step that nothing whatsoever done by any individual at Haringey Council was in fact incorrect in the Baby P case, and that the brutal murder of the child in question could, therefore, not possibly have occurred.
The social workers will not, however, be permitted to take samples of the MPs' DNA. "Though David Blunkett and John Prescott kept offering theirs."
Jacqui Smith says the new measures will fit in with plans to search the homes of staff working on ID cards to prevent leaks, the plans in question having leaked.
Get daily email alerts of new NewsTechnica!