PAGE 3, Channel 5, Friday (N! News) — We've seen tears, tantrums and torturous trials, but tonight we see the last episode in this year's series of I'm A Cabinet Member, Help Me Stay In Here.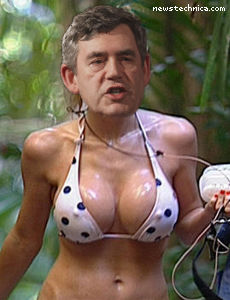 From Gordon Brown asking if he could get elected by chomping on crocodile testicles to Jacqui Smith losing everyone's details in the Creepy Crawly Identity Database — and who could forget all of the disgusting Bushtucker Trials, including Gordon and Alistair Darling munching a cocktail of bankers' anuses and Ed Balls being shut in a dark cave full of PFI contractors?
David Miliband thinks he lost valuable airtime after Labour delegates banned him from doing anything strenuous. He wrenched his credibility when a strap holding him up broke in the Banana Trial — sending him crashing to the ground. He said camp joker Peter Mandelson had got on his nerves. "When he came in I thought, 'is he a plant?' Peter's entertaining. He's like a pantomime villain. I think he's a nice guy underneath it all. The doctors say the crushed vertebrae should heal within a year or two."
Lord Mandelson became a viewers' favourite with his antics during the Bushtucker Trials — dropping recalcitrant minor ministers into a pit of bugs and practicing his ballroom dancing on the skulls of anyone who had ever crossed him in any way.
Prime Minister Gordon Brown celebrated the first anniversary of his massive boob. "After my next crisis I'll make another boob. I love it. I'm obsessed with massive boobs. Mine apparently make quite an impact, though I don't think they look that big. We'll see what properly-commanded central planning can squeeze in there. Mmm, boobs."
Get daily email alerts of new NewsTechnica!