HOT-AIR BALLOON, Mid-Atlantic, Thursday (NNGadget) — Virgin Media, operators of Britain's only cable television network, has launched a new 16 megabit Internet service.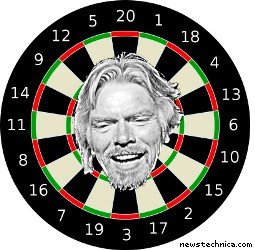 "That's sixteen megabits total over the day, usually," said Virgin Media phone menu robot Mark Schweitzer, "but it's very fast when it's going. Plain old ADSL can't hold a candle to it. You can hit your download limit in minutes!"
Customers will be able to add the boost free for three months, after which they will need to pay an additional £5 per month. The three months will start when Virgin ascertain the customer might possibly have thought about it in passing, probably last June. Should you be in any way less than satisfied, Virgin will be happy to leave you in a phone queue for three days, then disconnect your service entirely and charge you to switch it on again rather than just go back to the old plan like you asked them. And cut the cable outside your house and claim you did it. And pass your address to the record companies so they can send you threatening letters.
Virgin Media will also be releasing a new 50 megabit broadband service before Christmas. "We've heard that you can use things called 'computers' to send messages and even pictures. That'd be a good service to offer! We have this bloke in facilities who knows a bit about computers, we could get him to run it between refilling the coffee machines. If we tried, we could probably make it as reliable as our telly. Nobody really minds when the football drops out ten minutes before the end, do they."
Virgin Media ("We've Never Done It Before, And We Don't Really Know How To") was founded as an experiment by ethically challenged psychologists to ascertain just how abusively awful customer service could get and still have anyone giving them money. The company is sponsored by British Telecom to make them look good by comparison.
Get daily email alerts of new NewsTechnica!