OH FUCK NOT HEALTH, Farringdon Road, Wednesday (NNN) — A terrorist attack on the NHS has brought three London hospitals to a halt.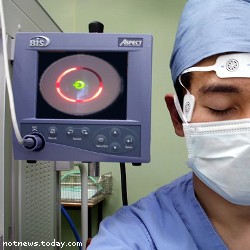 The terrorists, representing an organisation calling itself "Microsoft," apparently used insecure third-party contractors to put a virus-running platform called "Windows" into critical systems in the hospitals, in order to extort money from them on an annual basis.
It is understood that a large percentage of all businesses are infected with the virus, wasting up to 25% of employees' working time and opening the companies to further attacks from related criminal organisations demanding to see all their licenses.
The virus in question, W32.SHILL/SCHOFIELD, takes over the host's IT systems, leading to aches, pains, nausea, vomiting, pumping out prodigious quantities of faeces and a terrible compulsion to spread the infection to others. The patient also walks with a shuddering stumble and asks for their hospital meal to include tasty, tasty brains. Recovery has commenced when they have an overwhelming urge to throw their computer out of the window. "Getting this stuff out of the system makes MRSA look like a walk in the park," said one cleaner, waving his shit-encrusted hands about for emphasis.
When the infection became known, ambulances were diverted to other hospitals. "We have maintained a safe environment for our patients throughout the incident," said a spokesman for Barts NHS Trust, "keeping them in the Clostridium difficile culturing lab rather than risking exposing them to 'Windows.'"
"Healthcare staff should not share smartcards," said a Connecting for Health spokesperson, "and if smartcards are used without a condom then disciplinary procedures should follow."