CHANNEL 5, Wapping, Friday (NNN) — New findings printed today in all papers and broadcast on ITV, Channel 4 and Channel 5 reveal that television is "virtually a mental vitamin" for intelligence and emotional well-being. In addition, it helps treat arrhythmia, psoriasis, tooth decay, distemper, dropsy, haemorrhoids and impotence, and lets you see through clothes.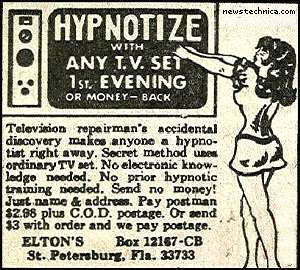 The findings were revealed today by the study's funders, a consortium of commercial television broadcasters and newspaper proprietors. They have recommended that watching television and reading printed newspapers be made mandatory as a public health measure, and that the Internet be renamed "The Paedophile Channel" as a warning to possible users.
"Regular television viewers have a deeper understanding of popular culture, are up-to-the-minute on artistic ideas of the moment and have something to talk to their co-workers about the next day," said Dr Desmond Murdoch. "The quick-fix nature of televisual gratification accumulates and quickly becomes permanent. The tightly-scripted performance brilliance of thirty-second messages provides the viewer's necessary daily dose of thoughtful mental stimulation and wit.
"I met a scientist once," said Dr Murdoch. "Well, he said he was a scientist. He handed me a remarkably large cheque."
Further results from the research group are expected to include revelations that jaffa cakes, crisps and Coca-Cola are "fruit" for the purposes of achieving one's government-mandated five portions a day, and that snake oil liniment does all it is claimed to.
"It lets you see through clothes, man," emphasised Dr Murdoch.