CHEQUE IN THE MAIL, Down The Back Of The Couch, last month (NNN) — Peter Mandelson is formulating plans for the Post Office™ to keep itself relevant to the modern world by developing new areas of business.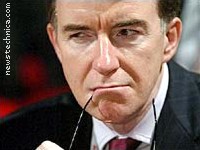 "Lord Mandelson believes in the future of the Post Office™," said Lord Mandelson. Royal Mail employees have been cautioned that garlic and silver crosses are not considered part of the postal uniform.
Plans include financial and government services and providing pictures for new passports and ID cards. "We can bring the poor in," said Baron von Mandelson, "photograph them, take a DNA sample, tattoo the bar code on their foreheads and send them off to an efficiently stacked Post Office™ Council Cardboard Box, fitted with broadband. The bubble wrap provides excellent soundproofing and insulation. The journey through the sorting machine is not unreasonable in the circumstances."
TV and vehicle licensing will be brought back into the network, and expanded to computer licensing. "Licensing and tracking every personal computer in the country is vital to saving rural services. We can also charge a mere 1p per email, travelling through the secured and monitored Home Office network, to fund these important focal points for local communities."
Other plans include the supply of ice cream, fizzy drinks, petrol and lager. The Post Office™ will also be part of the Department of Health's War On Obesity. "The gum on the back of stamps has been especially enhanced with a Xenical-based chemical, to promote an efficient dietary regime."
Suggestions that the Post Office™ get into the business of physical delivery of letters and parcels were greeted with a perplexed snort of laughter.