PAGE 3, Channel 5, Sunday (NNN) — Middle England was outraged today when, in the wake of the abuse of Georgina Baillie by ruthless BBC broadcasters, it was revealed that Gary Glitter's 1970s hit "Thank Heaven For Young Women With Photographic Identification Certifying They Are Of Legal Age" was on a list of "related listening" for GCSE music coursework.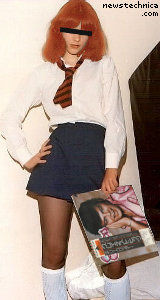 "This is completely inappropriate," thundered Education Secretary Paul Dacre. "If a sixteen-year-old listens to a Gary Glitter song, it is scientifically proven that they will regress in time to being underage, and then have sex with him."
It is understood Glitter could reap several pounds in royalties, a significant amount compared to the tens of thousands of dollars he still makes annually from American radio play.
"Anyone even thinking about this song is probably raping children themselves," said Zoe Hilton in an NSPCC quickie press release. "So give us your fucking money, you filthy fucking nonce."
A sixteen-year-old in Britain can have sex and even get married. However, they cannot be photographed having the sex in question, appear on page three of The Sun (any more) or drink in pubs, and must under no circumstances be allowed to become aware of the existence of Gary Glitter songs, in case they corrupt their inherent moral purity and righteousness.