THE TOMBS, Downing Street, Friday (NNN) — Gordon Brown today explained his astonishing decision to bring his bitter rival Peter Mandelson back into the Cabinet as business secretary: "My God, I am so completely fucked, even Mandy looks a good idea."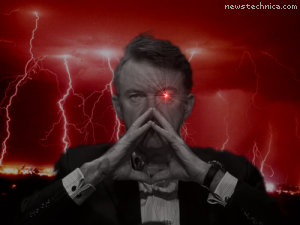 Baron Mandelson, 679, of Transylvania, smiled for the cameras, only having to reconstitute himself twice when the flashes dissolved him into dust. "I only enter where I am invited," he said in sepulchral Eurocratic tones. "When I am called upon, I shall return."
Labour MPs rushed to greet the chief architect of New Labour, many carrying wooden stakes, garlic and crosses.
Mr Mandelson has had a chequered career in office. Previous Cabinet terms have ended with unfortunate resignations due to being beheaded by angry villagers, burnt at the stake, wrapped in chains and thrown to the bottom of the Volga and, in one case, nuked from orbit.
"Serious people are needed for serious times," said Mr Brown in a monotone, staring glassily into space. "I hear and obey. Am advised."
David Cameron was unavailable for comment, with only the sound of cackling glee and champagne corks audible on the line.