CHAP CENTRAL, Southbank, Friday (NNN) — After firing Metropolitan Police commissioner Sir Ian Blair, London mayor Boris Johnson has announced a public competition to design an iconic robot replacement.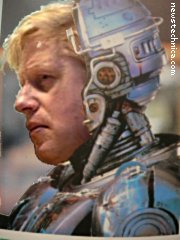 "The classic London bobby was a tourist landmark," said Mr Johnson. "We need something that will really sum up London, that will really look the part of the new 'Ello-'Ello-'Ellomaster."
Johnson's dismissal of Blair has been condemned from all quarters, with senior constables across the country refusing the job as too prone to political interference.
"Well, we had to get rid of that Blair fellow. Political disaster, don't you know. Horribly prone to bumbling and gaffes. Well, that's all over! We have the plans, we have the committee, we have Dom Grieve and the party chaps on side. We can bind law and order and short-term politics to work together seamlessly for the good of all. Gentlemen, I present: Robo-Tory!"
Sir Ian said he looked forward to a planned new position in the Home Office and possibly a seat in the House of Lords. "Anything, really, as long as I get at least one chance to call Boris onto the carpet. Mmm, yes."
"Yet again Boris has made a complete hash of things," said Ken Livingstone, though no-one asked him.
Get daily email alerts of new NewsTechnica!