STRATFORD INTERSTELLAR, Olympic Wasteland, Friday (NNN) — Angry commuters on the Central Line, fed up with morning rush hour delays, have set a train on fire and pelted it with rocks.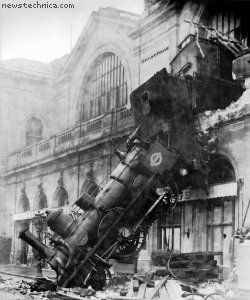 The service proceeded to arrive fifteen minutes earlier than planned.
The government has blamed the incident on leftist activists, after Mayor of London Boris Johnson raised the most popular fares 11% despite somehow claiming an average increase of 6%.
Mayor-In-Exile Ken Livingstone rallied his remaining followers by short-wave radio from his Venezuelan mountain cave this evening. "Boris has made a complete hash of it as usual. But I shall return. This is my promise: I will never give you up. I will never let you down. I will never run around or desert you."
Johnson said the incident had caused £4m in damage, and saved £8m in compensation that would otherwise have been paid to season ticket holders for late running. "We're thinking of timetabling them every weekday," he said.