MOUNTAIN VIEW, Lolcat, Tuesday (NNGadget) — Google has released its own Web browser, Chrome. "We absolutely promise that we only want to completely screw over Microsoft with this, and certainly not Mozilla Firefox," said Google's Sundar Pichai. "That we put a pile of our sponsored Mozilla developers on the project is completely irrelevant. We're not evil, remember."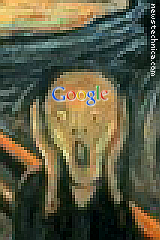 "We are so, so happy with Google Chrome," mumbled Mozilla CEO John Lilly through gritted teeth. "That most of our income is from Google has no bearing on me making this statement."
Microsoft was unfazed. "Browsers don't need to be integrated with online apps," said marketing developer Ian Moulster. "Certainly not like the operating system … I'll just get back to you."
Google's new browser will give you their web and email services, photo processing, mapping, office applications that will run in said browser and will make you a cup of tea. This is all paid for by personally-directed text ads in your tea leaves, based on analysing a DNA sample taken when you sip the tea and sending your genetic code back to Google for future targeting.
Pichai stressed that Google would maintain complete confidentiality within the marketing department of whatever the browser accessed concerning your confidential business data, bank account details, medical information and personal preferences in pornography. "We're Google. We know where you live. In a completely not evil way. Sponsored link: Get Chrome Browsers on google.com. Or we'll make you use Windows Live."
Get daily email alerts of new NewsTechnica! Come on, sign up willya?