TEH INTARWEB, Lolcat, Tuesday (NNGadget) — Home Office counter-terrorism experts intend to exploit nu meeja websites to "channel messages through volunteers in Internet forums" as part of a campaign to "taint the al-Qaeda™ brand," according to a document accidentally posted to Wikipedia this morning.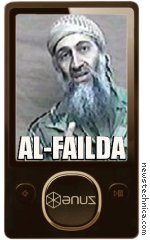 "We understand that people on Internet forums have no experience whatsoever of participants paid to advocate a position or product," says the report. "A single image macro exchange of 'U R TERRIST' 'NO U' 'O RLY?' 'SRSLY' could save countless lost souls."
The unit is also targeting the BBC and other online news outlets. The main obstacle appears to lie in writing messages stupid enough to pass for genuine reader comments. "Some of our top fake news writers have burnt out their brains on the task and now sit shaking and gibbering about real life being worse than any parody. And house prices."
Other work includes faked reports of al-Quaeda branded Zunes on Gizmodo, suitably on-message mouseover popups on XKCD and photomanipulations of Osama bin Laden as Pedobear on 4chan.
The initiative was spearheaded by a Home Office civil servant asked to account for the number of work hours he seemed to be spending on Internet message boards. His latest proposal is to fight al-Qaeda on MP3, BitTorrent and pornographic websites. "I've bought a new 500 gigabyte USB portable disk drive on expenses to store this important confidential data," he said.
Get daily email alerts of new NewsTechnica!