DUBLIN, Sicily, Monday (NNN) — Ireland may go to the polls again for a referendum on the new European Union constitution treaty gentleperson's agreement. "I stress that this is very much only a personal view at this stage," said European Affairs Minister Dick Roche, penciling the referendum in for next June at the very latest.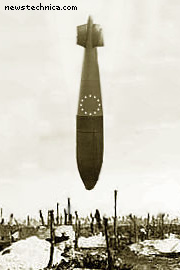 Irish voters plunged the EU into a diplomatic crisis when they had the bare-faced cheek to reject the Lisbon treaty in June. The second referendum will have the options "YES" or "NEXT YEAR."
"Minister Roche is not calling for a second referendum to be put," a government spokesman said. "That would not be a fair reflection of his words. Of course, we're utterly buggered if we don't."
EU President Nicolas Sarkozy concurred. "The people of Ireland have to understand: Europe is like a family. This is an offer you would be very unwise to refuse."
MEP Mary Lou McDonald demanded concessions for Ireland before the treaty could be taken to the voters again. The EU quietly reminded her of their extensive offensive arsenal of "thousands" of truckloads of dangerously tedious documents, carrying toxic payloads of long-winded obfuscation and misdirection in several major and minor languages.