PAGE 3, Wapping, Saturday (Norks News Network) — A new breast cancer treatment has led to new hope for newspaper proprietors being able to run more pictures of topless women with one hand over their breasts.
The story follows mere days after earlier stories concerning red meat, carbohydrates, drinking, high levels of daily stress and deodorant causing breast cancer, stories concerning bone cancer drugs, prostate cancer drugs, a "happy outlook" and high levels of daily stress preventing breast cancer and, of course, several close-ups of Kylie Minogue's bottom.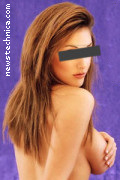 "It's been a bumper season," said Grub Street mogul Desmond Murdoch, "so to speak. We've actually had to find a third and fourth file photo of a topless woman with a hand over her breasts. Though we ran a fabulous two-page spread of a self-examination conducted by Luscious Lucy, 19, of Sheppey, who wants to grow up to work with cute puppies and children and be in Nuts next month."
Additional opportunities were provided by the Portsmouth University breast biomechanics team, who actually managed to get paid money to find out that "breasts move up to 21cm during exercise and they move up and down, in and out and from side to side," although further funding and DVD duplication equipment is apparently required before final results can be produced.
Get daily email alerts of new NewsTechnica!