INTEL CASTLE, Transylvania, Friday (NNGadget) — A future without batteries — no need to charge phones or MP3 players, or even electric cars. No lost phone chargers, no running out of power sockets. Intel chief technology officer Justin Rattner demonstrated a Wireless Energy Resonant Link as he spoke at the annual Intel developers forum in San Francisco yesterday.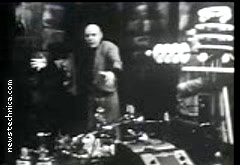 Rattner demonstrated this by causing his ears to light up at 60 watts of power a yard from a power transmitter operated by his assistant Igor. Only four journalists were incinerated when the power earthed through them from his fingertips.
Rattner reassured us that pumping kilowatts of power around the home through magnetic induction power is absolutely harmless. "The human body is not affected by magnetic fields," he said as one journalist with a pacemaker collapsed and another with a knee replacement watched his leg catch fire. "There's no danger whatsoever from it, any more than there is from mobile phones cooking your brain, microwave leakage blinding you, chemical waste unraveling all the DNA in your balls or statistical clusters of kids with cancer wherever high-tension power lines run overhead. Asbestos and thalidomide were horribly slandered in their day too."
"Of course, Nikola Tesla did it first in 1899," said enthusiast Albert Tedious-Anorak, 54, of Little Boring. "I detailed this at length on Wikipedia, but they refused to believe the value of my revelations on this matter due to a conspiracy of Edison fans amongst the site administrators."
Get daily email alerts of new NewsTechnica!