CUPERTINO, Transylvania, Friday — After bricking unlocked iPhones, kicking applications off the iPhone store that might even slightly compete with iTunes in the far future and filing a wave of patents on basic well-known computer science, Apple Inc. today filed a Form 8-K with the Securities and Exchange Commission declaring that it was openly adopting Evil™ as a corporate policy.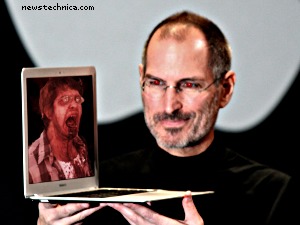 "Fuck it," said Steve Jobs to an audience of soul-mortgaged thralls, "we're evil. But our stuff is sooo good. You'll keep taking our abuse. You love it, you worm. Because our stuff is great. It's shiny and it's pretty and it's cool and it works. It's not like you'll go back to a Windows Mobile phone. Ha! Ha!"
Steve Ballmer of Microsoft was incensed at the news. "Our evil is better than anyone's evil! No-one sweats the details of evil like Microsoft! Where's your antitrust trial, you polo-necked bozo? We've worked hard on our evil! Our Zune's as evil as an iPod any day! I won't let my kids use a lesser evil! We're going to do an ad about that! I'll be in it! With Jerry Seinfeld! Beat that! Asshole."
"Of course, we're still not evil," said Sergey Brin of Google. "You can trust us on this. Every bit of data about you, your life and the house you live in is strictly a secret between you and our marketing department. But, hypothetically, if we were evil, it's not like you're going to use Windows Live Search. Ha! Ha! I'm sorry, that's my 'spreading good cheer' laugh. Really."
Get daily email alerts of new NewsTechnica!